Carolina Foot & Ankle Specialists is available to treat foot and ankle ailments such as diabetic foot care and ankle, ingrown toenails, fungal toenails, warts and painful calluses. Our practice specializes in general foot and ankle care.
Ankle Sprains
Ankle sprains are very common injuries with more than 3 million suffered each year in the US. They occur when the ligaments in the ankle are severely stretched or torn. Medical attention will be necessary to rule out a fracture, as often it is difficult to tell the full extent of the injury.
Bunions
A bunion is a bone deformity usually occurring at the base of the big toe. This is a progressive condition that is made worse by inward pressure from tight shoes. Bunions can be very painful, and in some instances surgery may be necessary to remove them.
Flat Feet
Flat feet is a condition where the entire, or nearly entire, bottom of the foot meets the ground when standing. Depending on the severity, symptoms of flat feet can range from severe pain to non-existent.
Hammertoes
Hammertoe is a characterized by one or more of the toes having a bend in the middle joint. This occurs because of weakening of the muscle due to poorly fitted shoes or a genetically inherited trait.
Diabetes and Your Feet
Diabetes is a systemic illness that can affect many different parts of the body. This is especially true for the feet. Proper foot screening is incredibly important for diabetic patients and any kind of cut or sore should be taken very seriously.
Heel Spurs
A heel spur is a bony protrusion that occurs on the heel. It is often confused with plantar fasciitis, which is inflammation of the plantar fascia ligament. When a heel spur is painful it can make it quite difficult to walk.
Athlete's Foot
Athlete's foot is a very common fungal infection that affects countless people around the world. It will manifest itself on the skin of the foot, in many cases in between the toes. Because fungi proliferate in warm, damp environments, keeping the feet clean and dry is of utmost importance in avoiding athlete's foot.
Sports medicine and treating running injuries
Nobody understands the grit and determination of a competitive athlete better than a fellow athlete. And nobody knows a runner's preventive and corrective foot-care needs better than Dr. Brown. As a collegiate baseball player, lifelong sports enthusiast and former marathoner, he's fully attuned to the rigors and challenges of the competitive lifestyle. Dr. Saffer also has a special interest in sports medicine and works with patients that have athletic foot injuries. As an athlete competing in Tae Kwon Do, 5K/10K races, and golf, he is committed to seeing athletes return to their passion for sports. Custom foot inserts, aggressive physical therapy, and proper foot gear are just a few tools used to correct foot pain.
Plantar fasciitis heel pain center
Plantar fasciitis and generalized heel pain can afflict anyone, from the weekend athlete and competitive runner to active kids and busy soccer moms. As a heel-pain specialist, Dr. Brown and Dr. Saffer offer you a variety of non- and minimally invasive treatment options, all designed to get you comfortably walking again and back to your normal activities.
Pulse Wave (EPAT)
WHAT IS EPAT THERAPY?
EPAT therapy is a highly effective treatment method: high-energy sound waves are introduced into the painful areas of the body. It is one of the most advanced and highly effective noninvasive treatment methods cleared by the FDA. The treatment works by helping to improve the regenerative potential, enhancing blood circulation to regenerate damaged tissue.
EPAT also known as Pulse Wave and Pressure Wave Therapy can successfully address all musculoskeletal pains and injuries of of the foot and ankle inlcluding plantar fasciitis/heel pain, achilles tendonitis, turf toe, stress fractures, Posterior tibial tendonitis, and other tendonitis in the foot and ankle.
Treatments typically take about 5-10 minutes, depending on the disorder being treated. Generally 3 treatments are needed each about 1 week apart. The benefits are often seen after only 3 treatments with some patients experiencing immediate pain relief. The non-surgical therapy for pain eliminates pain and restores mobility, thus quickly improving patients' quality of life.
Call us to learn more about how EPAT Therapy can address your pain, accelerate your healing and optimize your health.
BENEFITS OF EPAT TREATMENT
91% Success Rate (as per clinical studies)
Non-invasive
No anesthesia required
No risk of infection
No scarring
No downtime
Over 80% patient satisfaction
Cost effective
Faster, easier healing
Treatment for Bunions
Women suffer with bunions more frequently than men because of tight, pointed, high-heeled shoes that confine and restrict the foot. Dr. Brown and Dr. Saffer accurately diagnose and treat bunions by recommending steps to slow their progress or to repair the joint. If more conservative measures don't bring relief, Dr. Brown or Dr. Saffer may suggest surgery. Please refer to our Bunion video on our home page for more information on conservative and surgical treatment for bunions.
Treatment for Pediatric Foot Problems
Because kids are naturally active, they're constantly on their feet. Seeing them hobbled, limping and unable to play is enough to break a parent's heart. As loving father's Dr. Saffer and Dr. Brown have a genuine affection for children. They adore kids and know exactly how to put them at ease during exams and treatments. Common foot conditions that Dr. Brown and Dr. Saffer treat in children include flatfeet, ingrown toenails, growth plate injuries, sports injuries, warts, heel pain, and foot surgery if required.
Reconstructive Foot Surgery
If your foot problem can be corrected with a conservative, nonsurgical approach, that's what Dr. Brown and Dr. Saffer will do. But if you require surgery, they will carefully explain all your treatment options. Besides being experts in diagnostics, they are skilled surgeons with a breadth of experience that gives you the utmost confidence in positive results.
Diabetic Foot Care
Dr. Saffer and Dr. Brown help to manage foot problems that can occur as a result of diabetes. Patient's should be evaluated every three to six months to prevent diabetic foot complications. We believe that educating our patients about diabetic foot care is essential and our doctors lecture on this topic frequently. We are proactive in our approach and utilize programs such as the diabetic shoe program as well as a complete diagnostic evaluation of the feet during individual office visits.
Diagnostic Ultrasound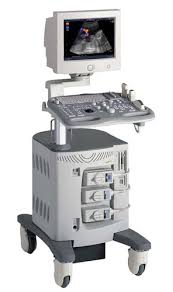 The Diagnostic Ultrasound uses high-frequency sound waves to produce images of the inside of the body.
The Diagnostic Ultrasound used in both office locations is state of the art, high-performance scanner that provides superior image quality for confident diagnoses. The ultrasound image is taken by the transducer as it sends out high-frequency sound waves into the body and then listens for the returning echoes from the body tissues. The images are immediately visible on a screen that looks like a computer monitor.
It is a useful diagnostic tool because it captures images of the muscles, tendons, ligaments, joints and soft tissue in real-time showing structure and movement as well as blood flowing through the blood vessels.
In Podiatry, Ultrasound images are typically used to help diagnose the following conditions:
Ability to locate and measure swelling at particular tissues such as the plantar fascia.
Tendon pathologies, such as tears of the Achilles tendon.
Abnormalities related to soft tissue masses.
Identification of stress fractures not visible on X-Rays.
Identification of neuromas in the foot.
Digital x-ray
Our offices have in house digital x-ray for the feet and ankles. The images take less than 30 seconds and our doctors are able to review the results in our treatment rooms.
State of the Art Minimally Invasive Foot Surgery
Dr. Brown and Dr. Saffer are both board certified foot surgeons who keep up with the latest surgical techniques available for our patients. Our Foot Specialists are constantly attending the most recognized Foot and Ankle surgical conferences to stay current with the latest surgical techniques. They strive to find the best surgical techniques that offer the most relief and minimal healing time.